Blogging Bubbles. Flemming Funch adapts my Ecosystem of Networks to highlight the creative role of the individual, how individuals are empowered when they are connected and how memes percolate from one to many: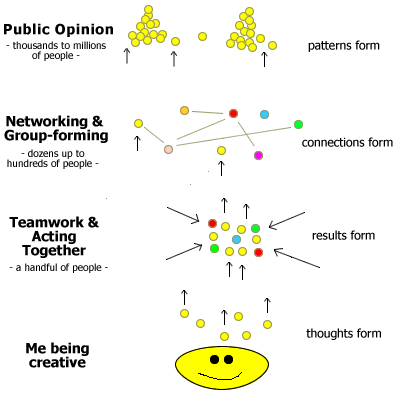 So, here the point is that it starts with ME and the choices I make and what happens to them. So, if we're talking about blogs, there is first whatever I have the thought of writing about. I make some choices about what to write about. Let's say we consider each of those thoughts or choices a little bubble, and that those little bubbles naturally rise up in the information ocean.
Public opinion maps to the political network, networking and group-forming maps to the social network, teamwork & acting together maps to the creative network — and me being creative is participating in all three. The arrows flow in all directions, not just up. Just as thoughts feed results feed connections feed patterns — patterns feed connections feed results feed thoughts.
[
Ross Mayfield's Weblog
]